Information Regarding Coronavirus and Court Operations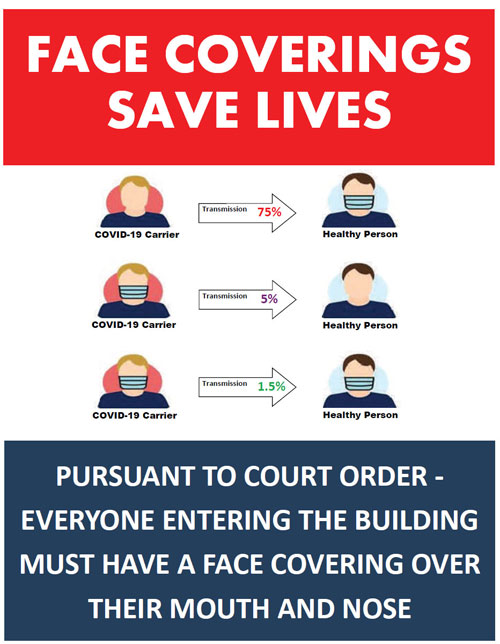 Check Your Juror Group Number Reporting Instructions
Request a Postponement or Excuse from Jury Service
Effective August 1, 2017 The only juror overflow parking lot will be Lot 297 located on 7th and F Streets.
Important Message from the Jury Commissioner's Office
CORONAVIRUS (COVID-19)
In response to the health concerns raised by the coronavirus (COVID-19) pandemic, the Sacramento Superior Court has developed a plan that that puts your health and safety at the center of our priorities.
Stay Home if you are Sick - Anyone who is sick or who is exhibiting COVID-19 symptoms will not be permitted to enter any court facility. If you are scheduled for jury service and are ill, please contact the Jury Office at (916) 874-7775 or by requesting a postponement or excuse from jury service online.
Reduction in Jurors – We are significantly reducing the number of jurors being asked to report for jury service at any one time and will be staggering arrival times throughout the day.
Mandatory Face Coverings – Employees, jurors and members of the public will be required to wear facial coverings within the courthouse. For more information on face masks please visit: https://www.cdc.gov/coronavirus/2019-ncov/prevent-getting-sick/diy-cloth-face-coverings.html
Enhanced Sanitation - We have increased the amount of routine cleaning, with a focus on high-touch surfaces and common areas including elevators, courtrooms, jury assembly rooms and restrooms.
PLEASE EXPECT LONG LINES AND LONG WAIT TIMES
The court will follow physical distancing recommendations and building access will be limited. Elevator use is being restricted to 4 users at a time. Please obey all signs. Your patience is appreciated!
Jury Scams
Past or prospective jurors are never contacted by phone regarding failure to serve jury duty. All communication regarding failure to serve jury duty is done via U.S. mail. No court staff or Sacramento County Sheriff's staff ask past or prospective jurors to pay a fine or provide financial details including, credit card numbers, bank account, social security numbers or other personal information. Please do not provide this type of information to anyone.